Keep in mind that what your business is worth depends on three factors: the cash it generates today, how much cash it's likely to deliver in the foreseeable future, and the return any buyers would require on their investment in your business. Evaluation isn't something you do only when a deal is pending. Doing a proper Evaluation is necessary every single year.
The world is evolving with each passing day. And the business industry is matching this evolution step by step. This book is the culmination of all my experiences and learning. I will also tell you how to enhance the quality of your business.
The mastery of competitive business is a process of transformation, of change, of continuous rebirth. The only losers are those who fight the PROCESS. The struggle in rebirth is transforming. Don't fight it. Become part of it. Calmness, positive energy, joy, and confidence.
What is Metaphysics? Metaphysics is the branch of philosophy responsible for the study of existence. It is the foundation of a worldview. It answers the question "What is?" It encompasses everything that exists in the world of business. This is business!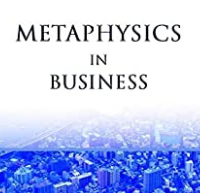 It is our hope thatthe following workbook will assist in the discovery of your existing culture. This discovery will assist in developing a creative and innovative perspective of your company. The best way to proceed is by creating a new culture.